DTM3 Corporation is an independent REGISTERED INVESTMENT ADVISOR. We provide our private clients a comprehensive suite of services to design, implement and manage estate and financial plans. Practically speaking, every client represents a unique engagement requiring unique solutions and creative adaptations to conventional issues.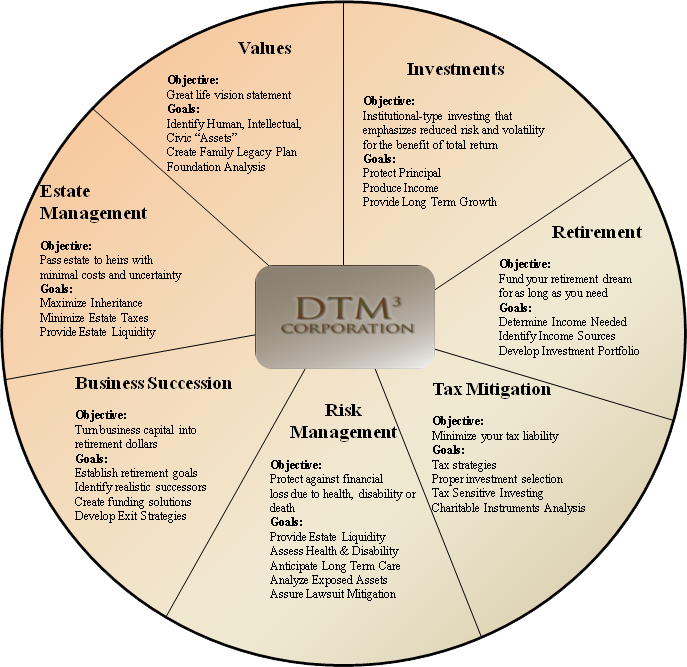 DTM3 Corporation is not a broker-dealer. We provide unbiased advice and act on our clients' behalf to achieve results based upon specific plan design. We use our experience to manage strategic estate, trust and financial plans by directing our clients' interests to the most appropriate resources available, at a competitive value. We hold these strategic alliances accountable and monitor their progress and ultimately their deliverables. "The devil is in the details" and DTM3 Corporation manages the details.
DTM3 Corporation provides a flexible, scalable platform to provide comprehensive estate and financial advice, as well as, discrete individual service requirements. We can be engaged in a purely consultative role or in the traditional asset based or fee based arrangement. The clients' goals are paramount and always influence the decision process.
Perhaps you do not feel comfortable with the many difficult decisions and considerations inherit in the planning process. Don't feel alone. Frankly, most clients regardless of education or background, don't possess the time or desire to become functionally knowledgeable in the specific and complicated aspects of planning disciplines. Don't let this become a source of frustration and ultimately a deterrent for establishing a sound financial and estate plan.
Financial Planning is the process of establishing the goals and implementing the actions necessary to achieve them. The process consists of evaluating each individual situation in the areas depicted in the wheel above.
For a complimentary discussion of your current situation and your goals, in a personal and confidential environment, please contact us at info@dtm3corp.com or call (206) 459-9500.